Last week I signed up for a trial subscription to SamCart, to see how it worked for digital product sales. I've been happy with E-junkie, but SamCart had a few shiny features that looked appealing. Things got off to a great start, but one key feature is missing, so I'll be staying with E-junkie. Should you choose SamCart or E-junkie?
Longtime E-Junkie User
Since 2011, I've been using E-Junkie to sell my Excel products. It's not fancy, but it's been a good, reliable service for all those years. I chose E-Junkie because they were familiar to me – both Jon Peltier and Chandoo used them to sell their Excel products.
I've only had to contact their support team once, and they were very helpful. That this year, when PayPal warned that it would stop processing sales if pages didn't meet their mobile responsive requirements. I got a few error message warnings from PayPal, and the E-Junkie engineers sorted things out with the PayPal technical staff. Great service!
E-Junkie Features
It's easy to use E-Junkie, and they've made improvement so the Admin dashboard and other pages, since I started there. The main Admin dashboard isn't as slick as some of the other services, but everything is laid out clearly. They have help pages too, if you need to find out how to do something new.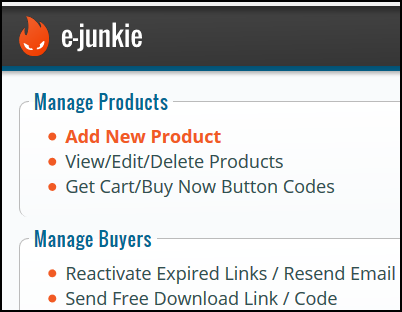 The only thing I've wanted, that E-Junkie doesn't offer, is a way to customize the checkout page. The only option is to show your company logo at the top, which I've done. So, when I noticed a promotion for SamCart, with fancy checkout pages, I decide to take a look.
Getting Started with SamCart
Pat Flynn, from the Smart Passive Income blog, was promoting SamCart recently, and their program looked interesting. Most of their plans are on the pricey side – $99 per month, and up. They've introduced a Basic Plan though, and it's only $19 per month.
The 30 day free trial make it a no-risk experiment, so I signed up. At first, I couldn't log in and see the main dashboard, so I sent an email to SamCart support. Within a few minutes, I got a cheerful reply, with a new link, and that one worked.
Clean and Simple Dashboard
The SamCart dashboard is much cleaner and simpler in design than the E-Junkie dashboard. The main dashoard has charts that show your total sales, conversion rates, and other key data.
If you go to the Products dashboard, it looks clean and simple too – just a button to add new products. Or, if you have products set up, there's a link to each of your products.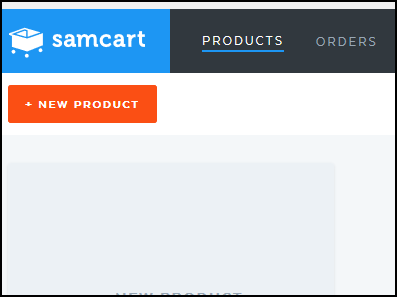 Daily Emails for New Customers
Since signing up, I've received a daily email from "Brian". There's no last name, but I assume it's Brian Moran, the founder and CEO of SamCart. The Welcome email had a short list of "Getting Started" steps, that explained how to activate my account, and find some bonus training material on their site.
That was followed by a series of helpful emails, called The Checkout Cure. Each email had a brief message, and a link to a short video. The videos show how to add a product in your dashboard, connect to payment processors (PayPal, etc.), connect to your email service, such as AWeber, and so on.
Learning about SamCart
I wasn't in a rush to switch over to SamCart, so I've poked around a little, and watched the daily Getting Started videos. Everything looks simple to do, and the videos provide clear, concise instructions.
There is a Knowledge Base with videos, and a Library where I had 3 resources. I'm not sure if those were bonuses from my trial membership, or if everyone gets them.
The SamCart Library
Here are the 3 resources that I found in my library.
The Metrics Masterclass is a 41-minute video lesson. It shows how to make good decisions, based on your SamCart sales dashboard. It explains what each chart shows, and how to use that information improve your business. For example, if your cart conversion rate is low, make sure your cart page includes customer testimonials, and other key elements.
The Freedom Formula resource is a 40-page PDF file, so I've downloaded that. It shows how to structure an online business, so you can get traffic and make sales. I liked the links at the start of the PDF file – there was a graphic layout of the ideal online business structure, and the small graphics were linked to the sections. For example, click on the Sales Page picture, to go to that part of the PDF. It changed the zoom level when I clicked though, and that was annoying.
The 3 Tools Report is a 6-minute video. The first 2 minutes says that you can create your first digital product over the weekend using PowerPoint, Camtasia and a microphone. The rest of the video is a promotion for a paid course, Product Creation Masterclass.
More Research on SamCart
Despite all the good things that I found in SamCart, I decided that it wasn't right for my business. It all came down to the "Add to Cart" feature
There are several Excel products for sale on my Contextures website, and you'll automatically get a discount if you buy multiple products in one purchase. So, you can browse through my site, and click the Add to Cart button if you see a product that you like.
When you're finished shopping, view the cart, and then click the button to go to the checkout.  If you have more than one item, you'll automatically get the applicable discount.
Before I switched to SamCart, I checked to see if that type of discount was available there too. To my surprise, I learned that only one product at a time can be processed, although you can set up a check box that offers one other product in the checkout, as an upsell.
So, I won't be switching to SamCart, unless they offer an "Add to Cart" feature at some time in the future.
Choosing SamCart or E-Junkie
Should you choose SamCart or E-junkie? There's not much difference in pricing between SamCart Basic and E-Junkie Standard, but these services have different features available.
With SamCart Basic, you can have unlimited products, for $19 per month and a 1.0% processing fee. You can set up discount coupons for customer purchases. There are no subscription sales allowed in the Basic plan, and the Affiliate Center isn't available either.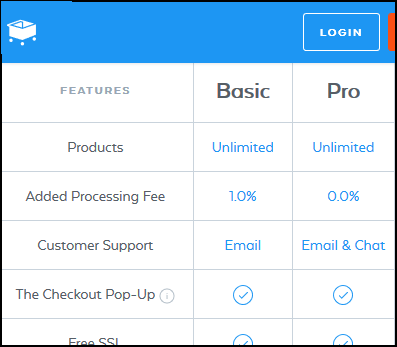 With E-Junkie Standard, you can list 40 products, in 2 GB of storage space, at $15 per month. There are no transaction or setup fees.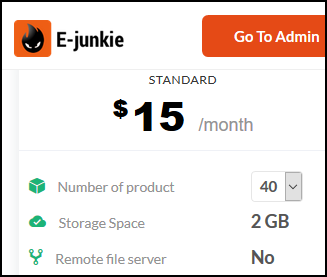 Get SamCart or E-Junkie
Either SamCart or E-Junkie are good programs, if you're selling products. Take a look at their features, and decide which ones are most important to you.
Which one will you choose — SamCart or E-junkie?
______________________
Save
Save
Save
Save