Last December, I got a new laptop, and have been using it for most of my work since then. I store client files, blog posts, sample Excel files for my Contextures website, and a few too many digital photos.
The laptop has about 1 TB of disk space, so I should be okay for a while – or so I thought.
Almost Out of Space
Last week, I noticed that the C drive was almost at capacity – it was showing a red bar in Windows Explorer. Yikes! I didn't ever run into that problem in the old laptop, and I used it for a few years.
What was filling up the drive? Had I really taken so many photos that I'd hit the limit?
Then I noticed that my storage space had been split into 4 drives, and the C drive only had 186 GB. So, I moved all the photos, and some of the documents to the other drives, and that temporarily solved the problem.
Can't Open Outlook
Then, a crisis hit – Outlook wouldn't open because it didn't have enough disk space. I moved a few more files to the other drives, emptied the Recycle Bin, and got Outlook running again. Whew!
But I can't work like that – I don't want to be constantly worrying about disk space. What was filling up the disk, and how could I get that stuff into a different drive?
Check the Folder Properties
I started through the folders again, checking each one's properties, and looking for unusually large items. Was a program taking more that its share of the space? Was Windows 8 the culprit.
Finally, I found one of the Temp folders, in the AppData > Local directory, and it looked pretty full. Sometimes an installation file gets stuck in there, and they can be a few hundred MB in size.
I sorted the list in descending order by file size, and was shocked to see this item at the top of the list. It was a text file, named toolbar_log.txt, and it was 53 GB!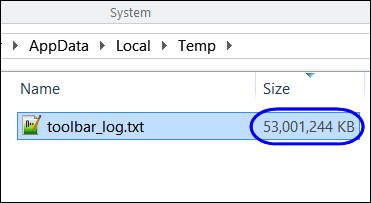 Of course, Notepad++ couldn't open it, because it was so huge, so I couldn't see what was in the file. A Google search showed that it was a file created by the AVG security software, and other people were complaining about its size.
Delete the Rogue File
The online information indicated that it was safe to delete the file, but AVG would just recreate it.
So, I did, and as predicted, the file came back. As I watched in Windows Explorer, the file size increased every few seconds.
I deleted it again, and followed the advice in one of the online comments – I set the file to Read Only.
Problem Solved
So far, so good – the file is about 500 KB, and holding. I haven't noticed any effects from changing the file to Read Only, except for the benefit of 53 GB of free space on my C drive.
I'll sort out the folders and files, to spread things around, not that the crisis is over. And I'll add a few Libraries, to make it easier to get to my files, after they're moved.
I hope you never run into this problem, but if you have AVG installed, you might want to check for a file named toolbar_log.txt – and make sure it isn't eating up your space.
___________