When you work for somebody else, you get vacation time every year. It's nice to have lazy time away from the office, and think about something other than work for a while. But, when you work for yourself, do you remember to go on vacation? Or do you just take a long weekend now and then, and then get right back to work?
Get Out of the Office
I work from home, and it's tough to pull myself away from the office – there's always something that needs to be done.  Days, nights, and weekends kind of roll into one blurry timeline. Well, except for cocktail hour – I usually remember that!
Last week though, our 10-year-old grandson came to visit, and he did a great job of keeping me away from my computer. We played indoor and outdoor games, went for walks, did arts and crafts, read books, cooked delicious food, and watched a bit of television. (Did you know they made School of Rock into a TV series?)
National Day Celebrations
To plan for his visit, I made a list of all the upcoming "National ___ Day" events. There is an astounding number of them! When he got here, we went through the list, and picked out at least one thing to celebrate each day.
His favourite day was August 10th – it had the awesome combination of National S'mores Day and National Lazy Day. Can you imagine a better day than that?
We didn't have a campfire, so the S'mores were cooked in the toaster oven. I hope that doesn't violate any National S'mores Day regulations! They were delicious, and just as sticky and gooey as the campfire versions, as you can see in the photo below.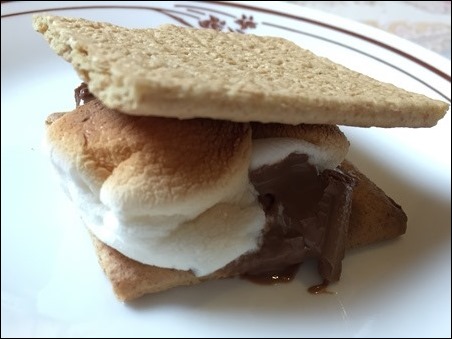 Taking Some Lazy Time
Our grandson's visit is over, and he's gone back home. Now I'm back at my desk, as usual, but I should take more Lazy Days. (Once a year is enough for S'mores Day.)
Maybe I'll start with Lazy Hours – a whole day might be too much at first. I'll take an hour away from the computer every day this week, and won't think about Excel, or websites, or any other business-related topics. I won't even think about whether lazy time will make me more productive in the long run.
Do You Take Lazy Time?
How about you? Do you already take time away from the computer, or do you need a forced "Lazy Time" too? What would you do during that time? I'll read a mystery novel – the Agatha Christie kind, not the gruesome details type. Computers aren't even mentioned in those books!
Oh, and I just noticed that Tuesday, August 15th is National Relaxation Day, so this is perfect timing!
Up a Lazy River
To help you relax for Lazy Time, here are The Mills Brothers, singing "Up a Lazy River". Tip: Don't search on YouTube for "Down a Lazy River", or you'll end up with a not-very-relaxing Osmond Brothers song.
____________
Save
Save
Save
Save