Long ago, I set up an Amazon S3 account, to use their low-cost storage for some of my downloadable files. Today I logged in again, to see what was stored there. Apparently my initial enthusiasm wore off quickly, because there was just one lonely file. So, to get started again, I made a test file that you can download – the link is below. And no, it's not in Excel!
Create a Test File
Since today is National Colouring Book Day, that was my theme for the downloadable file. I don't have any adult colouring books, but the Internet tells me that they're a popular way to relax.
So, I found a set of Mandalas that I have a licence to share, and put a few into a PDF file. Then I zipped the file, and was ready to upload it to the Amazon S3 site.
Add Another Amazon S3 Bucket
In the Amazon S3 site, you create buckets (folders) in your account, and upload your files to those buckets. So, I needed to create a new bucket, and upload my colouring book file to that bucket.
Not too surprisingly, the S3 Console has changed since I last used it – in September 2011! But, with a few instructions on the S3 site, and a bit of Googling, I managed to create the bucket, and upload the file. (Strong coffee was involved!)
The trickiest part is naming the bucket – you have to use a name that is unique, across ALL the buckets that exist in S3 storage! So, start with your domain name, or something similar, then a descriptive ending.
And strangely, my old bucket had an underscore in its name, but Amazon wouldn't allow an underscore in the new bucket name.
Choosing a Region doesn't matter too much, from what I read, so I picked the closest one in the list – US East (Ohio). My old bucket is in US East (N Virginia) – maybe the Ohio region wasn't available in 2011.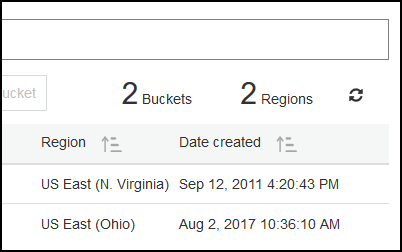 Set the Permissions
For the new bucket, I set the Public permission for the bucket to Read Only. For the file, I allowed Public Access. Then, I used Easy Redirect Script to shorten the long and ugly Amazon S3 link.
Get the Colouring Book
If you'd like to try the Amazon S3 link, click here to get the National Colouring Day 2017 booklet.
It's a zipped PDF file, so download it and unzip the file. Then, print out the pages, and get out your coloured pencils, to have some fun on Colouring Book Day.
If you have any trouble with the download, please let me know. And after all the stress of setting up the bucket and downloadable file, I should probably do a bit of colouring too!
Amazon S3 Account Usage
I'll keep an eye on the account now, to see what the usage is like, and how much it costs. My account was free for the first year, and I've never had a bill from Amazon S3, but that will change if I store more files there.
Do you store any files in Amazon S3? If you do, are the costs as reasonable as I've heard?
___________
Save
Save
Save
Save