Yesterday, I went to the MVP Community Connection 2017 event at Microsoft Canada. It's certainly in a convenient location – about a 5 minute drive from my house!
There are about 200 MVPs in Canada, and it looked like about 100 people at the event. They opened up the walls between three adjacent meeting rooms, and we were able to clearly see the presentations on the screen in each section.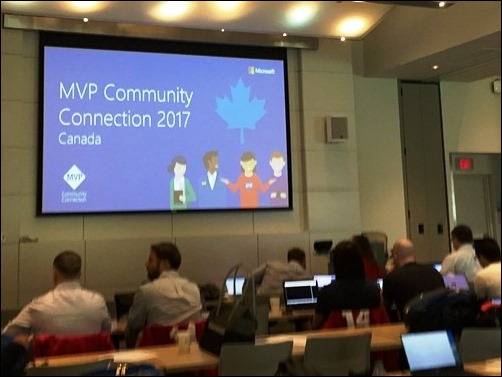 Guess Who Was There?
A few people that usually attend these events weren't going, but on Thursday night, I got a wonderful surprise. Ken Puls posted on Facebook, saying that he was on his way to the event!
Ken lives on Vancouver Island, which is about as far from Mississauga as you can get in Canada. So it was great to see him there on Friday – it's been about 8 years since I saw him last (in Seattle that time).
Do you like his pie chart shirt? The title is, "Colors on This Shirt", and the labels on the chart are "Black" and "White". There's more on the back, but I didn't get a photo of that.
Fortunately, Google found the shirt, and you can see it on the xkcd website – it's the "Self-Reference Shirt".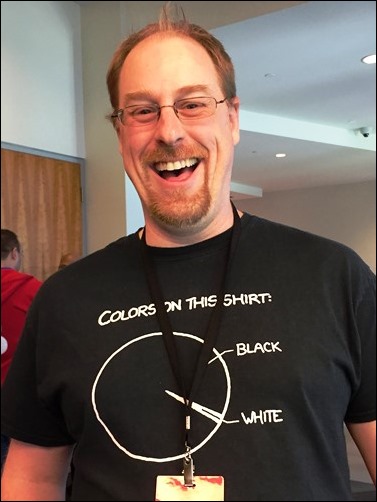 M is for (Data) Monkey
There was another surprise too – Ken gave me a signed copy of his Power Query book – M is for (Data) Monkey. Thanks Ken!
I already had the electronic version of the book, and it's even nicer to have a paper copy. Now I can flip through it, and get inspired to do more experiments with Power Query.
Ken does online Power Query training too, if want to ramp up your skills with the help of Power Query experts.
The Mandatory Selfie
And, just to prove that we were both there, I took this selfie during our lunch break. You can see a few other MVPs in the background, wearing our new red football shirts. We love red, here in Canada!
_________________
Save