If you have to work with messy data in Excel, be sure to watch the third video in the free Excel Data Cleansing series from John and Oz at MyExcelOnline. In this final video, you'll learn how to consolidate Excel workbooks and worksheets using Power Query. That's the best tool in the Power BI toolkit, so it's worthwhile to learn more about it.
Data Cleansing Online Course
Now that the free video series is ending, John and Oz are opening the doors to their full online course — The Ultimate Excel Power Query & Data Cleansing Online Course
I haven't seen any other courses like this one. It will teach you how to clean, extract and combine your data in seconds, saving you hours of frustration, and providing more insightful metrics that can help you make more accurate business decisions.
What's in the Course?
The course is broken down into 20 chapters that include Formulas, Analytical Tools, Power Query, Case Studies & Bonus Videos with over 7 hours of video tutorials!
This is what you get when you join The Ultimate Excel Power Query & Data Cleansing Online Course:
Lifetime Online Access + Course Updates so you are up to date with new data cleansing features
Downloadable Excel Workbooks so you can follow along & practice or skip directly to the answers
Downloadable MP4 Videos to keep on your desktop and view the course offline or when travelling
Certificate of Completion to enrich your CV/Resume as well as add to your LinkedIn profile
30 Day Money Back Guarantee so you can view the course without any risk!
Impressive Content
John and Oz gave me access to their course, so I could review it before deciding if I wanted to recommend it to you. I watched several of the videos, and both John and Oz present the material clearly, so it's easy to follow along. And with videos, if there's something you don't quite get the first time, you can watch again later, at any time.
I downloaded a few of the workbooks, and they make it easy to follow along with the video instructions. I especially liked the case studies that are included in the course, showing practical examples for the material covered in the video lessons.
Bonus Material
In addition to all that great content, you'll also get these valuable bonuses when you sign up for the course:
6 x Monthly VIP Live Webinars ($380 Value) with Oz and John where they solve your workbook problems & headaches and come up with a solution
12 Months Pro-Level Email Support ($490 Value) to help you with any Excel Data Cleansing issues you have along the way, and keep you on track!
How to Register
To register for The Ultimate Excel Power Query & Data Cleansing Online Course, or to learn more about it, just click this link. You'll see the registration information, as well as the course outline, and comments from students in previous sessions.
Get a 20% Discount — As a valued subscriber of mine, you will also get 20% off the retail price of the course*. All you have to do is enter the coupon code CONTEXTURES when you are in the checkout area.
* NOTE: This discount is not available for the 3 month payment plan
My Free Gift to You
When you sign up for the full course (not the free video series), I'll give you an extra gift as a bonus… my popular Data Entry Popup List kit. Just email me a copy of your receipt and I'll send you my bonus. It can help keep your data clean, by making it easy for people to enter valid data.
Registration for The Ultimate Excel Power Query & Data Cleansing Online Course closes next Friday, September 30th, at 6:59 PM New York Time. Don't miss out — enroll here before it's too late!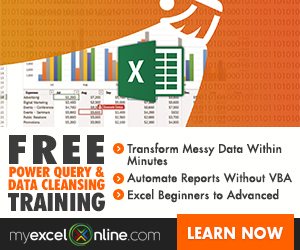 _______________________