Today I'm making some structural changes to my websites, and the instruction page on Hostgator warns that you should make a full site backup before beginning. That sounded like good advice, so I decided to follow it!
In their support section, I found the instruction page, and followed the steps carefully, to begin the backup. Hostgator promised to send me an email as soon as the backup is ready, and it "could take a few minutes."
Waiting for the Backup
While waiting for the email, I clicked the "Go Back" button. That took me to a page where it showed a historical list of site backup files. In the screen shot below, you can see that full list.
Apparently I like to do this once every 8 years, whether I need a backup or not. In future, I promise to do this more frequently, which shouldn't be hard, since the bar is set so low!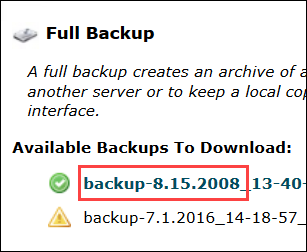 Downloading the Backup File
It only took about 5 minutes for the email to arrive, and I clicked to download the file. The link doesn't show the file size, which would be helpful, but Firefox told me that it's 2.2 GB. Apparently it will take about 25 minutes.  Twenty-five minutes? But I want it now!
How about you? Do you do a full site backup more frequently than once every 8 years?
____________
__________________