Do you like to get a new computer, even though it means a few hours of setting things up? I'm still setting up my new laptop, and experimenting with Excel 2016. There's lots to do! And there's a very short survey at the end of this post, so please answer, if you can.
Setting up the QAT
What do you change when you install Excel on a new computer? Thanks to Dick Kusleika for reminding me to make a list, in case I ever have to do this again.
I noticed the almost empty Quick Access Toolbar (QAT) right away – I'll have to add my favourite commands there. Here's a screen shot of my current QAT, so I can remember what's on it.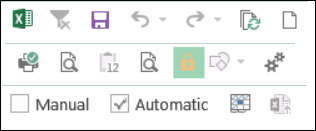 I rarely make changes to the Ribbon though – do you add commands there?
Installing the Excel Add-ins
Next, there are some Excel add-ins to install. There's a list of free Excel add-ins on my website, and instructions for how to install an Excel add-in.
Changing the Excel Default Settings
When Excel opens, I want to see a blank template right away, so I'll go to Excel Options, General, and turn off the "Show the Start Screen" setting.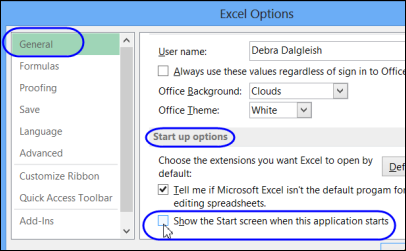 Are there any other default settings that you change when you install Excel on a new computer? I can't think of any, so I'll wait to see what doesn't work the way I expected.
Some people change the way Excel moves, when you press the Enter key, but I leave that alone. If I want to keep the selection on the same cell (rarely), I press Ctrl+Enter.
Excel Versions Survey
If you have a minute, could you please answer this short survey on Excel versions? It will help me decide what to write about on my blog, and in my newsletter. Thanks!
__________________________