One of my long term clients set up a volunteer program in her community, to help keep drinking drivers off the road during the holidays. It's a chapter of Operation Red Nose, which was started in Quebec, in 1984.
If you go out for the evening, then decide you shouldn't drive home, you can call Operation Red Nose. They'll pick you up, and take you home in your own vehicle. A team follows in another car, and returns the driver to the home base. The ride home is free, and contributions are gratefully accepted.
The program operates from late November until New Year's Eve each year. This year Operation Red Nose Caledon provided 321 rides, and received over $7000 in donations. That money will go to four local programs:
The Optimist Club of Caledon
Caledon Navy League
'L.I.F.E. for Youth' Caledon Community Services
'Safety Village and Graffiti Eradication' Caledon O.P.P.
I helped with their Access database, and am glad that it reduced the paperwork and manual tracking that the volunteers had to do. It's a great feeling to help out a team that is doing something so positive in their community. And I even got a plaque!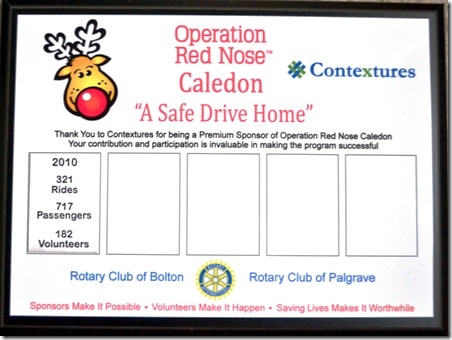 ____________